| | |
| --- | --- |
| Call sign | P.H.D.B. |
| IMO number | 9279032 |
| Built | 2005 |
| Shipyard | Scheepswerf Peters B.V. |
| Classification | Lloyd's Register |
| Class notations | I + HULL + MACH + AUT-UMS General cargo ship -heavycargo (inner bottom, 147 kN/m2) Unrestricted navigation ICE CLASS 1C, STRENGTHBOTTOM |
| Ice class | I C |
| Port of registry | Delfzijl |
| Flag | Dutch |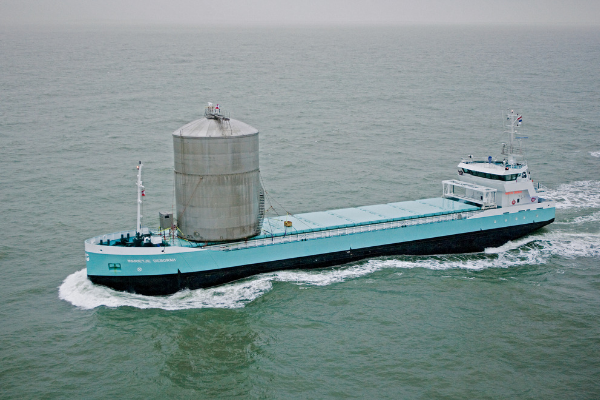 | | |
| --- | --- |
| DWCC (summer) | 3.500 ton |
| Length over all | 82,50 m |
| Breadth over all | 12,5 m |
| Draughts | Summer: 5,350 m, Tropical: 0,000 m, Winter: 5,350 m |
| TPC SSW | 10 |
| Air draft (in Ballast) | 12,7 |
| Depth (moulded) | 8 |
| Distance WL-HC in ballast | abt. 6 m |
| GT | 2.409 |
| NT | 993 |
Cargo capacities
| | |
| --- | --- |
| Total cubic feet capacity | 160.000 ft3 grain/bale |
Holds/hatches
| | |
| --- | --- |
| Hold #1 | |
| Dimensions | 54,6 x 10,3 x 8,15 |
| Luiken | 54,6 x 10,3 |
Coops & Nieborg Pontoon Hatches
Electrical ventilaton
Tank capacities
| | |
| --- | --- |
| HFO | 0 m3 |
| MGO | 140 m3 |
| Water ballast capacity | 1.682 m3 |
| Fresh water | 26 m3 |
10,5 knots – 4,8 mts/day
These figures are about and based on 5,00 m draft, clean bottom, even keel, deep and currentless waters, calm sea and ma x wind force Beaufort 2 / Douglas 2 and maximum sea temperature 28/29 degrees Celsius, and shaft generator connected.
Consumption in port abt. 0,2 mts MGO/day
Fuel oil specification
MGO as per ISO 8217:2010 DMA. Within: ECA Area t/c operation to be responsible for sulphur limit compliance.
Engines
| | |
| --- | --- |
| Main engine | Caterpillar 3512B – HD DI-TA, 749 kW at 1500 RPM |
| Reduction gear | |
| Propeller | Pitch propeller |
| Bow thruster | 220 kW |